Egan™ Linked Markerboards and Tackboards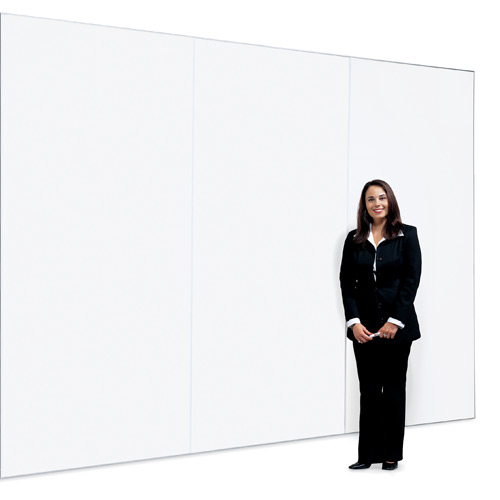 (Scroll over the thumbnails to view larger images)
Image May Not Reflect Selected Options
Be the first to review this product.


Write a Review »

- Or -
Egan Linked
Wall Mounted Markerboards
feature high-performance EVS Write or EganBoard Porcelain and aluminum frames with either eased-curve or precision square mitered corner. Egan Linked Tackboards feature tackable EganFabric panels in aluminum frames with an eased curve or precision square mitered corner. Link any combination of Linked Markerboards and Tackboards to create a horizontal visual communication wall 24"-96" high. When ordering, it is important to note that EVS and EganBoard Porcelain are designed with slightly different shades of white. When installed side-by-side, the difference in hue is noticeable.
Choose between EVS Write or EganBoard Porcelain.
Select a curved frame or a square frame.
Choose between a left segment, an inside segment, or a right segment.
Specify size for each segment.
Ships with a wall mount bracket, link connectors, an EganCloth, one marker tray per configuration, and red, green, brown, and black markers.
This item can be customized in many ways beyond the options listed on this page, please call for more information.
ATTENTION: Please note that Egan products may not be returned unless defective.
You May Also Like
For your reference:
This item is also sometimes listed under the following manufacturer numbers
IEBIB2436, IEBIB3248, IEBIB3648, IEBIB4848, IEBIB6048, IEBIB7248, IEBIB9648, IEBOL2436, IEBOL3248, IEBOL3648, IEBOL4848, IEBOL6048, IEBOL7248, IEBOL9648, IEBOR2436, IEBOR3248, IEBOR3648, IEBOR4848, IEBOR6048, IEBOR7248, IEBOR9648, IESIB2436, IESIB3248, IESIB3648, IESIB4848, IESIB6048, IESIB7248, IESIB9648, IESOL2436, IESOL3248, IESOL3648, IESOL4848, IESOL6048, IESOL7248, IESOL9648, IESOR2436, IESOR3248, IESOR3648, IESOR4848, IESOR6048, IESOR7248, IESOR9648, IMBIB2436, IMBIB3248, IMBIB3648, IMBIB4848, IMBIB6048, IMBIB7248, IMBIB9648, IMBOL2436, IMBOL3248, IMBOL3648, IMBOL4848, IMBOL6048, IMBOL7248, IMBOL9648, IMBOR2436, IMBOR3248, IMBOR3648, IMBOR4848, IMBOR6048
, IMBOR7248, IMBOR9648, IMSIB2436, IMSIB3248, IMSIB3648, IMSIB4848, IMSIB6048, IMSIB7248, IMSIB9648, IMSOL2436, IMSOL3248, IMSOL3648, IMSOL4848, IMSOL6048, IMSOL7248, IMSOL9648, IMSOR2436, IMSOR3248, IMSOR3648, IMSOR4848, IMSOR6048, IMSOR7248, IMSOR9648, ITBIB2436, ITBIB3248, ITBIB3648, ITBIB4848, ITBIB6048, ITBIB7248, ITBIB9648, ITBOL2436, ITBOL3248, ITBOL3648, ITBOL4848, ITBOL6048, ITBOL7248, ITBOL9648, ITBOR2436, ITBOR3248, ITBOR3648, ITBOR4848, ITBOR6048, ITBOR7248, ITBOR9648, ITSIB2436, ITSIB3248, ITSIB3648, ITSIB4848, ITSIB6048, ITSIB7248, ITSIB9648, ITSOL2436, ITSOL3248, ITSOL3648, ITSOL4848, ITSOL6048, ITSOL7248, ITSOL9648, ITSOR2436, ITSOR3248, ITSOR3648, ITSOR4848, ITSOR6048, ITSOR7248, ITSOR9648
...
Show All